Charly Boy reacts to the video of Kwara youths chasing their Governor from the podium ( Video)
Nigerian controversial television presenter and producer, Charles Chukwuemeka Oputa popularly known as Charly Boy has reacted to the viral video on social media, where Kwara state youths chased their Governor out from the podium.
Charly Boy reacted to the video via his verified Twitter account, he stated that what the youth did stands as a clear and loud message, and clear even the deaf can hear it now that the youth of Nigeria has finally woken up.
According to Charly boy, he reveals that the Governor of Kwara state is not performing because if he is performing, the youth will not chase him out like a no entity in a state where he is the number one citizen.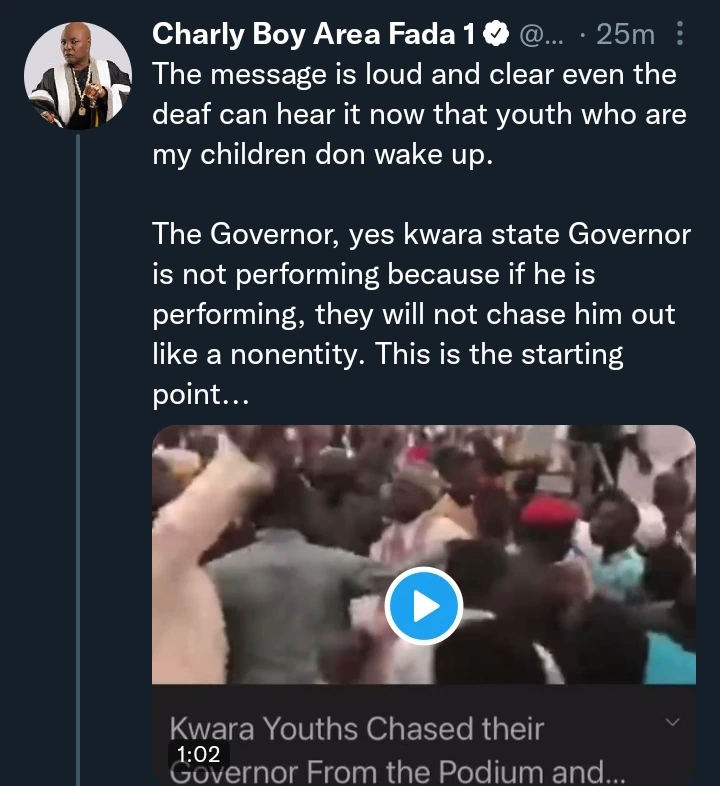 Click here to watch the video.
This is a wake-up call to all Nigerian youths to rise on their feet to reclaim the nation at large.
Dear readers, what can you say about what Kwara youth did to the Governor, Is it justifiable?